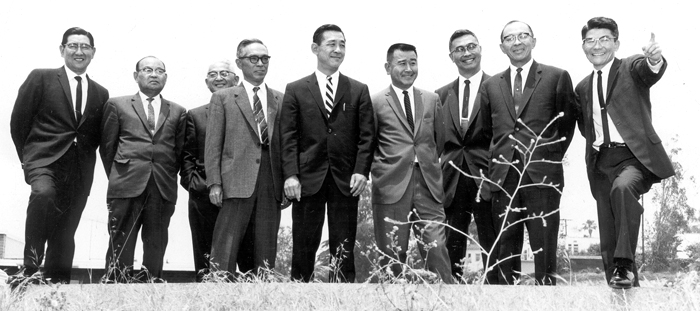 For over 50 years, the name Keiro ("respect for our elders") has reflected the values of the Japanese American community and our commitment to enhance the quality of senior life in Our Community.
In 1961, eight community leaders – George Aratani, Edwin Hiroto, Kiyo Maruyama, James Mitsumori, Gongoro Nakamura, Frank Omatsu, Joseph Shinoda, and Fred Wada – established Keiro to provide compassionate, quality health care in a culturally-sensitive environment for the Issei (first generation) pioneers. Thanks to many personal sacrifices, generous donations, and hours of volunteerism, Keiro began its steady growth of services and continues evolving to meet the changing needs of our community:
Japanese Hospital of Los Angeles (1961)
City View Hospital (1962)
Keiro Nursing Home (1969)
Minami Keiro Nursing Home (1974)
Keiro Retirement Home (1975)
Keiro Intermediate Care Facility (1977)
South Bay Keiro Nursing Home (1982)
Keiro Adult Day Center of Orange County (1999)
Keiro Adult Day Healthcare Center (2000)
The Institute for Healthy Aging at Keiro (2006)
After many years of thoughtful consideration, the Keiro Board made the difficult decision to sell the facilities. On February 8, 2016, Keiro and Pacifica announced the close of escrow of Keiro's four senior health care facilities, Keiro Nursing Home, South Bay Keiro Nursing Home, Keiro Intermediate Care Facility, and Keiro Retirement Home to Pacifica Companies, LLC.
The sale paves the way for Keiro to provide services and support designed to meet the changing needs of Japanese American and Japanese older adults and their caregivers in Los Angeles, Orange, and Ventura counties through programs, grants, collaborations, and strategic partnerships.